...about us
Norbert started off his musical experience in a classical oriented tuition by his own father. The urge to discover other musical fields was always present until there was a breakthrough when forming his first teen-age rock band at the 6 th Form. There he started his first musical arranging experience in both cover versions and some original work too. Soon after he found himself in a pub with a band of adult musicians. The pub experience led the way to form other duo and trio formations where he performed in several pubs and hotels all over the island. Playing with different musicians helped in accumulating a vast repertoire from all eras. Moreover meeting people from all over the world, requesting all sorts of songs also contributed in the pleasure of exposing himself to new songs and styles.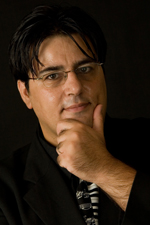 He played his first wedding ceremony at the age of fourteen, that of his elder sister, soon after the wedding reception of a friend. After 12 years of mixed musical experiences, today, Norbert plays mostly in weddings and other private functions, yet whenever he can, he often replaces other musicians elsewhere.
Having music as his passion, rather than just a profession, it is very important to complement this with satisfied clients, which make all this more worth doing. Usually satisfied couples go together with satisfied guests. Norbert enjoys the challenge and responsibility in creating the positive atmosphere for such occasions. His secret in succeeding is only one: keeping in mind all the range of age groups present in the crowd, performing something for everyone. In these last four years, he continued to widen his services in order to meet the different requirements, engaging a number of musicians and singers to instil variety and spice up his music as the comments corner witnesses.